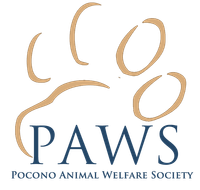 Pocono Animal Welfare Society, Inc. (PAWS) is a 501c3 non profit, all-volunteer organization.  We are committed to helping abandoned, abused, lost and unwanted animals in the Pocono region and to promoting community awareness about spay/neuter, animal wellness and safety.
We do not maintain a shelter/facility; instead, we rely on the generosity and kindness of volunteers who are willing to foster animals in need.
How We've Helped Local Animals Since May 2009
Prior to early 2009, our founders functioned independently as individuals helping local animals by providing medical care and home placement where possible.  Since incorporating and receiving our non-profit status as "PAWS", we have been able as a group to help dogs, cats and owners with the following services:

•Spay/Neuter
•Medical Care (Medical conditions beyond spay/neuter; ongoing support for senior dogs, cats and unable to adopt dogs in long-term foster.)
•Euthanasia for very sick dogs when owners cannot afford it.
•Posting pets on behalf of the owners that must relinquish them.
•Direct placement of animals (linking owner surrenders of pets directly with new families, thereby bypassing the rescue route completely.)
 We are very grateful for your donations!
How We Are Working to Raise Community Awareness
We believe educating young people is one of the keys to improving societal attitudes toward animal welfare.  We've begun our community awareness campaign by donating books to local libraries. The topics covered in the books range from the importance of spaying and neutering ALL animals to the life of a shelter dog to the sadness and neglect experienced by dogs that are continually chained.  In addition to being placed on library shelves, these books will be read during children's story hours.
 
If you like what we do and would like to help,
please drop us a line by way of the "Contact Us" page.
Pocono Animal Welfare Society (PAWS)
P.O. Box 787
Stroudsburg, PA  18360